All the mews that's fit to print.
August 31, 2022
Cats are controversial. Spay and neuter shouldn't be. The Ten Movement's latest advertising campaign is here, and it's not just for cat lovers. The ads, launched in Cincinnati and Dayton, show that both sides of the cat debate can agree on something: Spaying or neutering cats is the right thing to do. Learn more about the internationally-acclaimed director who brought the campaign concept to life and the impact it can have on the lives of cats in Ohio and beyond.
Download Full Press Release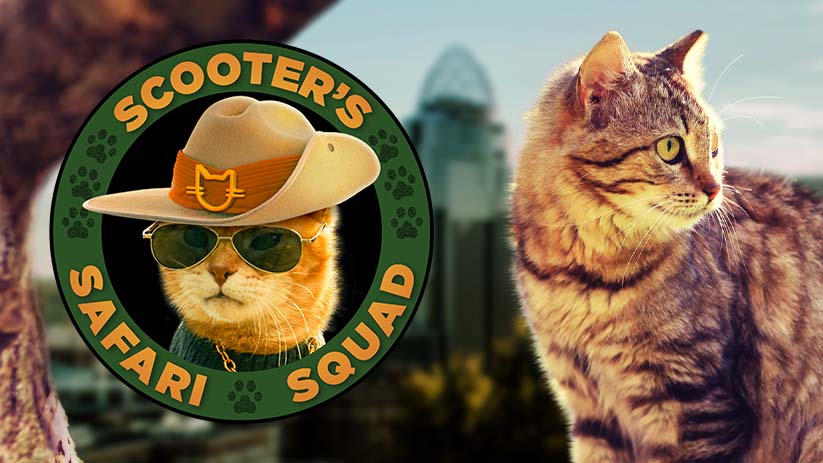 September 23, 2021
They're fun, friendly and affectionate. They have names like Rando, Chester and Dash. They don't have owners, and they don't need them. They're members of Scooter's Safari Squad. Scooter the Neutered Cat is highlighting members of his Safari Squad in each Greater Cincinnati neighborhood and needs your help to find them. Go out in the "wild" of your neighborhood and look for a community cat with the tip of its ear removed. This is known as "ear tipping" and means the cat has been spayed or neutered and is a perfect nominee for Scooter's Safari Squad. If you find a community cat without a tipped ear, report it at MildKingdom.org so the cat can be vaccinated, spayed/neutered and returned to its neighborhood.
Download Full Press Release
August 4, 2020
He's still the coolest cat in town, and now he's the safari guide tasked with educating the region on the importance of caring for community cats as part of the Ten Movement's latest campaign, Mild Kingdom, which launched on Monday.
Download Full Press Release