Just like spay/neuter, adoption is key to creating a no-kill cat nation. Adoption gives homeless cats the life, home and love they seek. Every cat adopted helps free valuable space in rapidly filling no-kill shelters, giving more lost feline souls the chance to be found.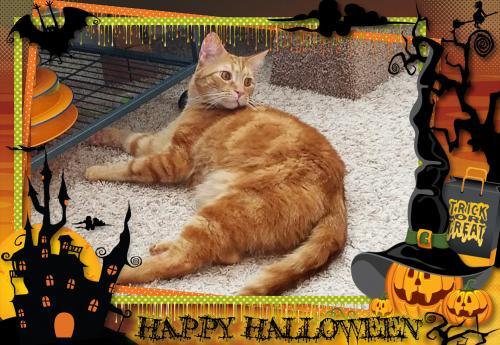 Adult | Tabby & Domestic Short Hair | Male
Handsome Cedric is a large classically beautiful dark orange, short-haired tabby boy, with the most vivid copper colored eyes. He's about 2.5 years old (b'date approx. 5/7/16).
He lived the first few months of his life with his mom & sister, sharing the bathroom of his rescuer's home - so initially he didn't have much experience with other animals or everyday activities and was very shy and scared. Then he was fostered in a loving home with several other cats and a couple of dogs; and then adopted into a loving family; so he's experiencing a lot more of life and has gotten braver and more confident! One of his favorite things is a feather wand; he loves to chase & play with the feathers!
Sadly, his family had to return him due to illness; so he's looking for love and a new home. He'll do best in a tranquil environment, and will need some patience as he gets used to all the wonderful things a new life with a new family in a new home can offer him!
Learn more about me
Your Adoption Day
On your adoption day, arrive at the shelter with an acceptable method of payment for your new feline friend's fee, any necessary adoption forms and a carrier. Of course, by then you'll have already read
how to prepare for cat adoption
as well as
what to expect in the first 30 days
. So let us be the first to say congratulations!