Just like spay/neuter, adoption is key to creating a no-kill cat nation. Adoption gives homeless cats the life, home and love they seek. Every cat adopted helps free valuable space in rapidly filling no-kill shelters, giving more lost feline souls the chance to be found.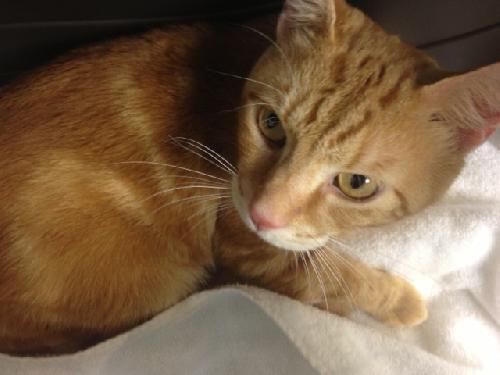 Adult | Tabby | Male
Fur covered GOLD. He is a LOVER!
Sinclair was found abandoned and starving in the Clifton area. It was obvious when he came in that he had fought hard to survive the strays and ferals that closed in around him when they all searched for food. As a result of fighting to stay alive, Sinclair is FIV positive. Don't let that scare you because he is one of the healthiest kitties you could meet! Sinclair is also one very happy cat: He is grateful he has been saved! Sinclair shows his appreciation through all the kisses he gives. He loves to cuddle, be held close (he will even "spoon" with you!) and he is a hugger. Sinclair is fur-covered GOLD in every sense of that expression! He deserves a life of committed love where he will never have to worry about being abandoned again! He is ready for that place called HOME. Sinclair will fill your heart with lots of joy and laughter if you will open it up and let him in.
Learn more about me
Your Adoption Day
On your adoption day, arrive at the shelter with an acceptable method of payment for your new feline friend's fee, any necessary adoption forms and a carrier. Of course, by then you'll have already read
how to prepare for cat adoption
as well as
what to expect in the first 30 days
. So let us be the first to say congratulations!