Just like spay/neuter, adoption is key to creating a no-kill cat nation. Adoption gives homeless cats the life, home and love they seek. Every cat adopted helps free valuable space in rapidly filling no-kill shelters, giving more lost feline souls the chance to be found.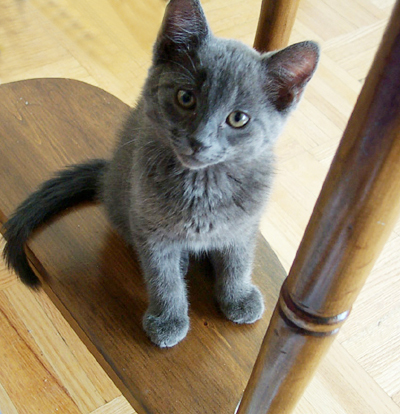 Kitten | Domestic Short Hair & Russian Blue | Male
Lamborgini (Lamby) is playful, active, affectionate - adorable!! He's part of a litter of 5; was one of the friendliest the quickest -almost immediately, as if he just knew he wanted to be a pampered pet!
Playful, active, outgoing, affectionate --> adorable!!
Beautiful solid grey color -
Russian Blue-looking (but probably not hypoallergenic, since not a pure-bred). His coat is thick & lush; and he's a healthy and happy youngster! Born approx. 4/24/18 to a stray momcat in Springdale, this group of 5 brothers (Alpha Romeo, Dukati, Ferarri, Lamborghini and Maserati) were caught and socialized so they could become indoor pets rather than outdoor, unwanted strays.
Learn more about me
Your Adoption Day
On your adoption day, arrive at the shelter with an acceptable method of payment for your new feline friend's fee, any necessary adoption forms and a carrier. Of course, by then you'll have already read
how to prepare for cat adoption
as well as
what to expect in the first 30 days
. So let us be the first to say congratulations!