Just like spay/neuter, adoption is key to creating a no-kill cat nation. Adoption gives homeless cats the life, home and love they seek. Every cat adopted helps free valuable space in rapidly filling no-kill shelters, giving more lost feline souls the chance to be found. Check our listings for shelters in your area.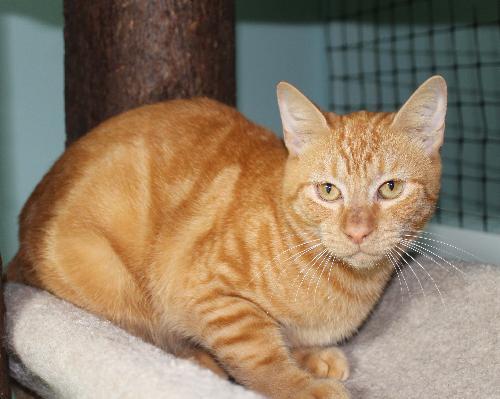 Adult | Tabby & Domestic Short Hair | Male
This little guy would show up every night around 10 pm to get a meal of hotdogs from the owner of the Dairy Queen. You could tell he wanted someone to rescue him as he loved to be petted even though he was a little scared to ask for it. Now he is safe inside, neutered, tested, vaccinated. He is getting braver every day. Born fall of 2010. Contact us at 513-557-2107 or fill out our application at www.purrfectfriendscatrescue.org if you are interested in meeting Hot Dog!
Learn more about me
Your Adoption Day
On your adoption day, arrive at the shelter with an acceptable method of payment for your new feline friend's fee, any necessary adoption forms and a carrier. Of course, by then you'll have already read
how to prepare for cat adoption
as well as
what to expect in the first 30 days
. So let us be the first to say congratulations!