Just like spay/neuter, adoption is key to creating a no-kill cat nation. Adoption gives homeless cats the life, home and love they seek. Every cat adopted helps free valuable space in rapidly filling no-kill shelters, giving more lost feline souls the chance to be found. Check our listings for shelters in your area.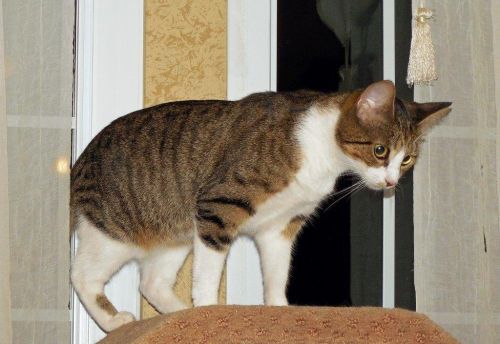 Adult | Tabby & Tuxedo | Female
Rowdy was apparently living near a dumpster at an apartment community when she was originally taken in... This tenderhearted girl was exposed to a pretty rough time and abuse, especially from a large, rough dog that tormented her. There was also lots of screaming, drama, and even physical fights that went on in her family. They ended up being evicted and brought Rowdy and her BFF (best feline friend), Samantha, to a neighbor to hold for a couple of hours – our rescue stepped in recently when we learned this all happened over 2 years ago. Rowdy is a sweet girl, very tenderhearted and affectionate. She loves to play and enjoys being petted. Rowdy does not normally meow, she just chirps. Rowdy needs someone who is that special person that will be gentle and patient, loving her in order to help her adjust. When she feels secure, she loves to have the sides of her face rubbed. Once she trusts, she is very loving and playful. Rowdy enjoys the opportunity to get behind you, once she knows you and likes to sniff hair...THEN, she throws herself down on top of your head, purring away! She's funny and a little silly. We estimate that Rowdy was born mid December 2013.
Rowdy has been spayed, is microchipped, vaccinated, and negative for FIV/Felv. Her adoption fee is $50. If you are interested in adopting this gorgeous, tenderhearted girl, please fill out our adoption application at http://www.purrfectfriendscatrescue.org/adoptform.html. Specific questions? Please email purrfectfriends@fuse.net Thank you! 4/9/18 1:11 PM
Learn more about me
Your Adoption Day
On your adoption day, arrive at the shelter with an acceptable method of payment for your new feline friend's fee, any necessary adoption forms and a carrier. Of course, by then you'll have already read
how to prepare for cat adoption
as well as
what to expect in the first 30 days
. So let us be the first to say congratulations!