Just like spay/neuter, adoption is key to creating a no-kill cat nation. Adoption gives homeless cats the life, home and love they seek. Every cat adopted helps free valuable space in rapidly filling no-kill shelters, giving more lost feline souls the chance to be found.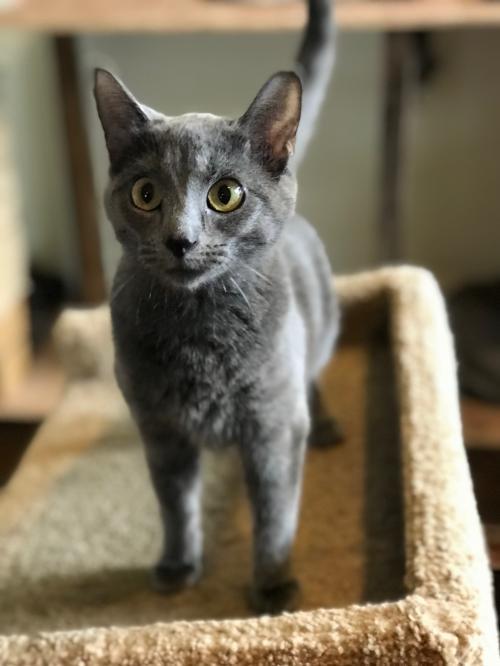 Young | Russian Blue & Domestic Short Hair | Female
This poor cat was seen thrown from a car with another cat. As the driver sped off he managed to hit one of the cats and sadly it did not make it. Little Clairee hid in a nearby car engine and her rescuers drove her slowly home where they had to remove parts of the engine to get her out. She was terrified!!
Once she knew she was safe, she became a little love bug. She is not a purebred, so we could not say whether she will bother allergies. She is petite and so cute! She loves attention and is very affectionate. She is however a little bit of a picky eater and only likes wet food!
Born around October of 2016, she is spayed, microchipped, vaccinated and negative for fiv/felv. Adoption fee $50. Local adoptions - Cincinnati area - only. 6/11/18 2:33 PM
Learn more about me
Your Adoption Day
On your adoption day, arrive at the shelter with an acceptable method of payment for your new feline friend's fee, any necessary adoption forms and a carrier. Of course, by then you'll have already read
how to prepare for cat adoption
as well as
what to expect in the first 30 days
. So let us be the first to say congratulations!