Just like spay/neuter, adoption is key to creating a no-kill cat nation. Adoption gives homeless cats the life, home and love they seek. Every cat adopted helps free valuable space in rapidly filling no-kill shelters, giving more lost feline souls the chance to be found. Check our listings for shelters in your area.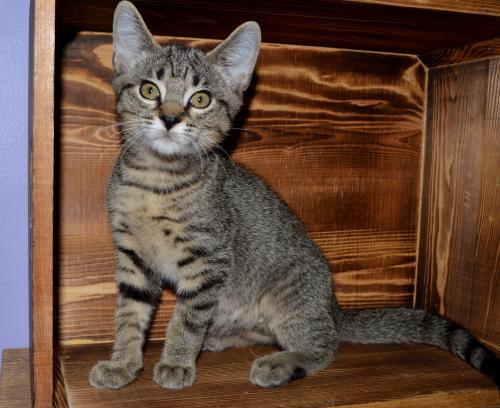 Kitten | Tabby & Domestic Short Hair | Male
Meet Ginger Roger's little dancers - Michael Jaxson, Fred Astaire, Rita Hayworth, Gene Kelly, Audrey Hepburn and Cyd Charisse. They were scheduled to be euthanized at a shelter that was over full. We could not let that happen! (Gene) Kelly is a wonderful boy, full of life & kitten joy. He likes to play a game where you slide him on the hardwood floor & he bounds back for more. He's a bit on the naughty side but in a good way! He & his brother Fred tumble & race around,which makes for great entertainment. Born mid May 2017, they are a lovely group of babies! Neutered, vaccinated, microchipped and negative for fiv/felv. Adoption fee $70 or 2 for $100! 8/11/17 12:38 PM
Learn more about me
Your Adoption Day
On your adoption day, arrive at the shelter with an acceptable method of payment for your new feline friend's fee, any necessary adoption forms and a carrier. Of course, by then you'll have already read
how to prepare for cat adoption
as well as
what to expect in the first 30 days
. So let us be the first to say congratulations!