Just like spay/neuter, adoption is key to creating a no-kill cat nation. Adoption gives homeless cats the life, home and love they seek. Every cat adopted helps free valuable space in rapidly filling no-kill shelters, giving more lost feline souls the chance to be found. Check our listings for shelters in your area.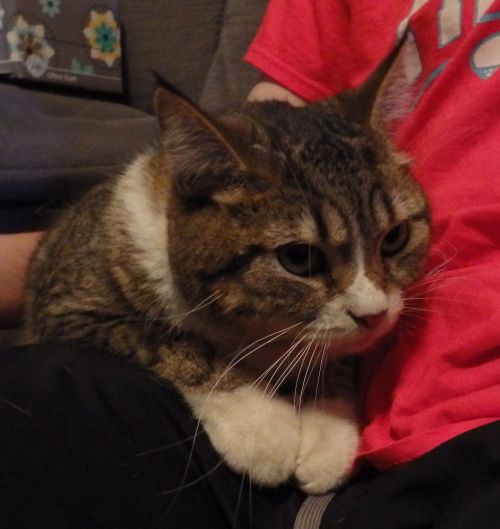 Young | Domestic Short Hair | Male
Jason Male (neutered) Short-haired brown tabby with white Approx. date of birth: 5/20/2016 Jason was born to a feral mother in an apartment complex. The residents of the complex wanted the kittens to find good homes instead of living the feral outdoor life. Our "kitten whisperer" foster had been working with this guy, the last of his siblings to be trapped and socialized. He is still timid with humans, but loves his toys. Check out that cute freckle on his nose!!! He has large paws and will probably be a big boy! Jason wants to live life on his terms. He does not like cuddling unless he does it. He would probably do best in a home with no dogs and no kids and with a cat buddy. Current food: Authority Kitten kibble and Authority Kitten canned cat food. Current litter: Grreat Choice non-scoopable scented clay litter All of our animals are in foster care. For the protection of our foster families, we will not arrange a meet-and-greet with the animal until an application is completed. Please email centralinfostercats@gmail.com to request an application (DOC, PDF or email format).
Learn more about me
Your Adoption Day
On your adoption day, arrive at the shelter with an acceptable method of payment for your new feline friend's fee, any necessary adoption forms and a carrier. Of course, by then you'll have already read
how to prepare for cat adoption
as well as
what to expect in the first 30 days
. So let us be the first to say congratulations!